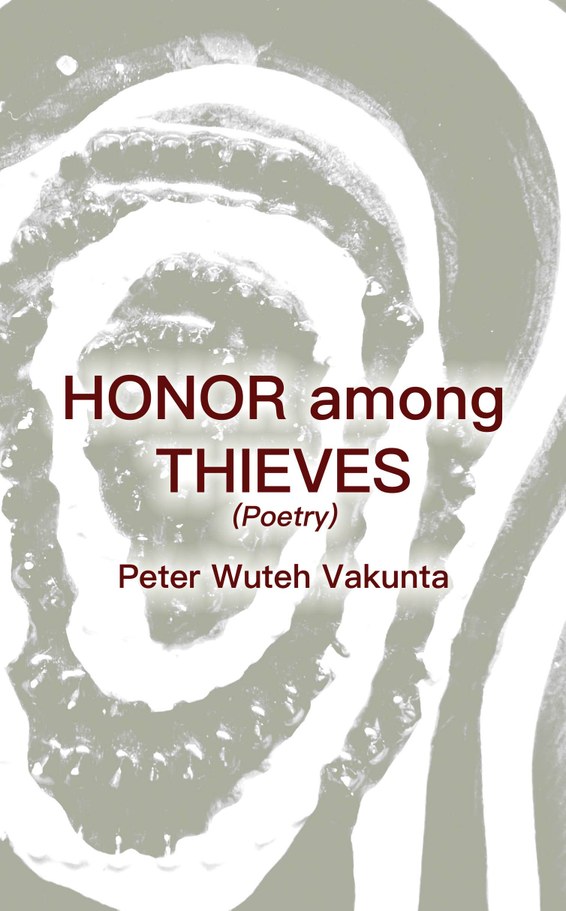 HONOR AMONG THIEVES
In this book of poems, the poet speaks in a confident tone of apocalyptic utterances: advising, warning, denouncing, protesting, and lamenting. This long poem has the twin virtues of relevance and clarity of diction. The poet willfully eschews the irksome ineloquence and syntactic sophistry characteristic of traditional poetry. He adopts the tone of African Guardians of the Word, the griots. Passion, energy, and incisive irony are the hallmarks of this didactic work.
BOOK PREVIEW
Top of Form
Currency
US Dollar: $ British Pound: £ US Dollar$
Bottom of Form
Top of Form
Paperback
$16.00 BUY
Bottom of Form
REVIEW
"Honor Among Thieves is one more expression of Africa's disaster and dilemma. The long poem chronicles the "dance macabre in the putrefaction" by "metamorphosed nitwits" feeding "feces to the poor." Vakunta's words flow feverishly in a harsh, harrowing rhythm, like blood gushing out of the bodies of innocent victims of Africa's reprehensible dictators. Cameroon is the particular site of the tragedy, but it could be Kenya, or Somalia, or Sudan..."(Dr. Femi Ojo-Ade, Professor Emeritus of French & History, St. Mary's College of Maryland, USA)
ABOUT THE AUTHOR
Dr. Peter Wuteh Vakunta is a native of Bamunka-Ndop in the Northwest Region of the Republic of Cameroon. His education is global. He studied in Cameroon, Nigeria, South Africa, France and the United States of America. His research interests are cross-disciplinary and straddle the tufts of applied linguistics and second language acquisition.  Professor Vakunta  is a prolific writer with over forty works on literary theory and fiction under his belt. He is an Associate Professor at the Department of Defense Language  Institute, Monterey-California, United States of America.